News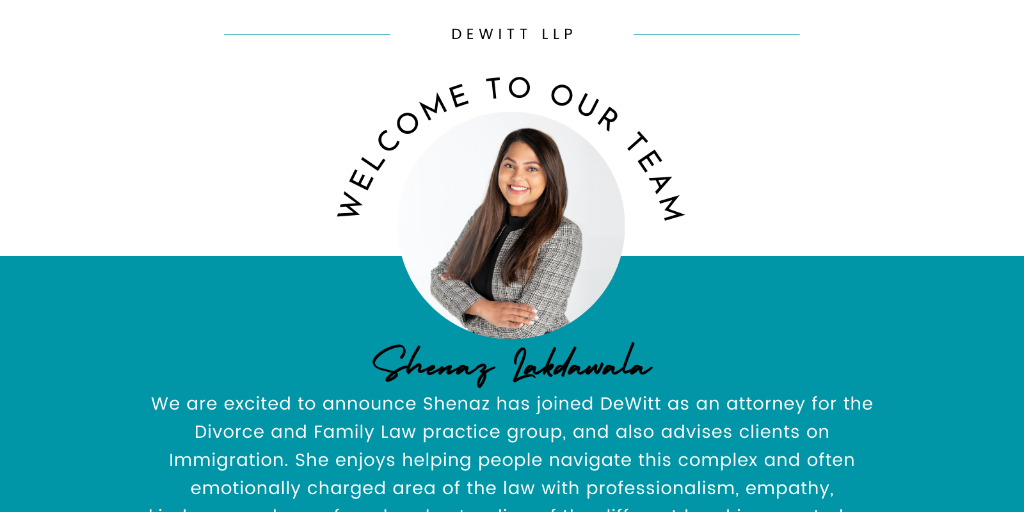 Attorney Shenaz Lakdawala Joins DeWitt
Jun 17, 2022 | Michelle M. Friedman
GREEN BAY | MADISON | MILWAUKEE | MINNEAPOLIS – Today DeWitt LLP law firm announced attorney Shenaz Lakdawala joined its Family Law and Immigration practice groups practicing from the firm's Metro-Milwaukee office.
Lakdawala handles a wide variety of matters ranging from divorce proceedings, custody and placement, child support, annulments, paternity, adoptions, termination of parental rights, modification motions, and emergency motions, to child protection, mediated divorce and more. Her experience also includes assisting clients with immigration matters such as family-based immigration petitions and representing those facing deportation and removal from the United States.
She earned a J.D. from New York Law School and a B.A. from Hunter College. Lakdawala is admitted to practice in Wisconsin and in the U.S. District Court for the Eastern District of Wisconsin. She is a member of the Legal Aid Society and a volunteer at the Marquette Volunteer Legal Clinic.
About DeWitt
DeWitt LLP was founded in 1903 and is one of the 10 largest law firms based in Wisconsin, with an additional presence in Minnesota. It has more than 130 attorneys practicing in Green Bay, Madison and Metropolitan Milwaukee, Wisconsin, and Minneapolis, Minnesota, and has the experience to service clients of all scopes and sizes. The firm is known for its work in a variety of legal areas including intellectual property, patents, trademarks and copyright law, construction litigation, corporate law, employment, environmental, employee benefits, estate planning, family business, family law, government relations, health care, litigation, real estate, and tax law. More information is available at dewittllp.com.